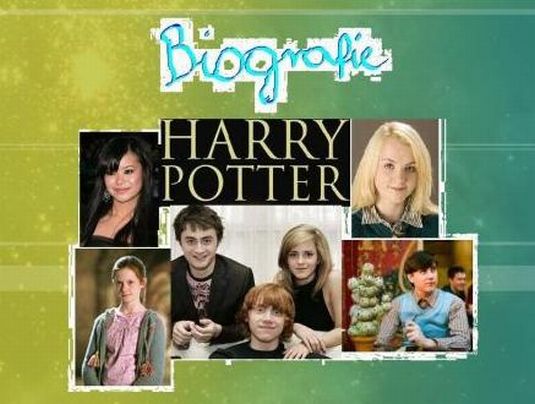 Biografie
Dział Biografie prowadzi Hermiona Granger
---
Postanowiliśmy zebrać w jednym dziale biografie różnych osobistości ze Świata Magii. Odchudzimy tym samym dział "Galeria" i znajdą się tu tylko fotki. Lista dostępnych Biografii poniżej.

Jka znajdziesz Biografię osoby, której tu nie ma a, która Twoim zdaniem powinna tu się znaleźć - możesz ją wysłać do nas na emaila: Guardian.

---
- Joanne Kathleen Rowling
- Daniel Radcliffe
- Emma Watson
- Rupert Grint
- Matthew Lewis (Neville Longbottom)
- Ralph Fiennes
- Julia Walters
- Gary Oldman
- Alan Rickman
- Dawid Thewlis
- Bonnie Wright
- Tom Andrew Felton (Draco Malfoy)
---
[ Powrót ]
Wtorek, 29 Lipca, 2008, 09:25
Joshua Herdman
Joshua urodził się w Hampton, w Anglii 9 września 1987 roku.


Jego rodzicami byli Martin i Julia Herdman. Jest on najmłodszy wśród czwórki rodzeństwa. Zaczął działać, gdy miał około siedmiu lat. Jego ojciec był aktorem, który załatwił mu agenta po znajomości. Dostał swoją wielką szansę, gdy został przesłuchany do roli w filmie 'Harry Potter i Kamień Filozoficzny', w którym dostał rolę Gregory'ego Goyle. W wolnym czasie chętnie wraca do domu do St. Margarets, spotyka się z przyjaciółmi, chodzi do kina i słucha rapu. Oprócz tego lubi także boks, pisanie scenariuszy filmowych oraz robienie filmów krótkometrażowych.
Ma 193 cm wzrostu.


FILMOGRAFIA:
2006: Reflections on the Fourth Film (on sam)
2005: Harry Potter i Czara Ognia (Harry Potter and the Goblet of Fire) jako Gregory Goyle
2004: Ministry of Mayhem jako on sam (gościnnie)
2004: Harry Potter i więzień Azkabanu (Harry Potter and the Prisoner of Azkaban) jako Gregory Goyle
2003: UGetMe jako Ben
2003: Build a Scene jako Gregory Goyle (zdjęcia archiwalne) (niewymieniony w czołówce)
2002: Harry Potter i Komnata Tajemnic (Harry Potter and the Chamber of Secrets) jako Gregory Goyle


2002: Marzenia do spełnienia (Thunderpants) jako Damon
2001: Harry Potter i Kamień Filozoficzny (Harry Potter and the Sorcerer's Stone) jako Gregory Goyle


Crabbe (Jamie Waylett), Goyle (Joshua Herdman) oraz Draco Malfoy (Tom Felton).

---
Ana
Sobota, 15 Marca, 2014, 11:36
---
Stefania
Sobota, 15 Marca, 2014, 21:54
---
Saori
Poniedziałek, 17 Marca, 2014, 05:23
---
louis vuitton replica
Poniedziałek, 17 Marca, 2014, 06:24
---
sally
Wtorek, 06 Stycznia;, 2015, 07:35
---
sally
Wtorek, 06 Stycznia;, 2015, 07:35
---
Hunter
Wtorek, 13 Stycznia;, 2015, 18:01
---
Hunter
Wtorek, 13 Stycznia;, 2015, 18:01
---
Ian
Wtorek, 13 Stycznia;, 2015, 18:01
---
Ian
Wtorek, 13 Stycznia;, 2015, 18:01
---
Jaime
Wtorek, 13 Stycznia;, 2015, 18:01
---
Jaime
Wtorek, 13 Stycznia;, 2015, 18:01
---
Zoe
Wtorek, 13 Stycznia;, 2015, 18:01
---
Zoe
Wtorek, 13 Stycznia;, 2015, 18:01
---
Emery
Wtorek, 13 Stycznia;, 2015, 18:01
---
Emery
Wtorek, 13 Stycznia;, 2015, 18:01
---
Vida
Wtorek, 13 Stycznia;, 2015, 18:01
---
Vida
Wtorek, 13 Stycznia;, 2015, 18:01
---
Romeo
Wtorek, 13 Stycznia;, 2015, 18:01
---
Romeo
Wtorek, 13 Stycznia;, 2015, 18:01
| Script by Alex