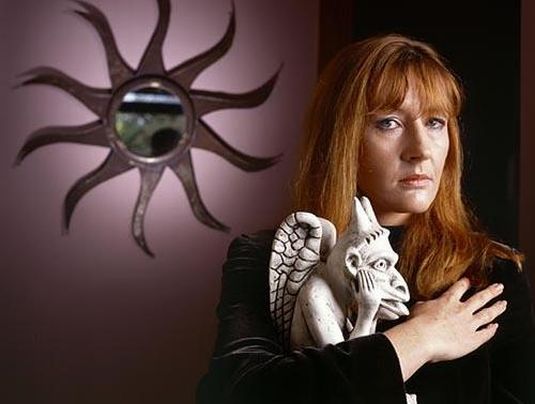 Dział prowadzi Narya
Powrót na Naszą stronę JK Rowling!
---
[ Powrót ]
Czwartek, 17 Maja, 2007, 11:50
Jo rozwiewa kilka wątpliwości - nowe FAQ.
Jakie są właściwości różdżki Dracona? Czy możemy zakładać, że jest wykonana z głogu, zgodnie z tabelą podaną na Twojej stronie?

Ciekawe jest to (przynajmniej dla mnie), że zdecydowałam się na głóg niezależnie od podanej listy. Więc tak, to głóg, i dziwnym zbiegiem okoliczności przypisałam mu to drzewo, tak jak ostrokrzew Harry'emu, nie wiedząc, że to właśnie to "właściwe" drzewo. Straszne... ale, z różnych powodów, głóg wydaje się pasować do Dracona, tak jak ostrokrzew do Harry'ego.


Z szóstego tomu dowiadujemy się, że Merope Gaunt pojawiła się w sierocińcu w Noc Sylwestrową i "w ciągu godziny" urodziła Toma Riddle'a. Czy Voldemort udodził sie 31 grudnia czy 1 stycznia?

31 grudnia.


Jak wygląda patronus Dracona Malfoya?

Ponieważ na końcu "Księcia Półkrwi" Draco nie wie jeszcze jak wyczarować patronusa, więc nikt nie zna odpowiedzi na to pytanie. Musicie pamiętać o tym, że umiejętność wyczarowanie patronusa, to zaawansowana magia, a młodzi uczniowie Hogwartu nie uczą się tego zaklęcia (stąd zaskoczenie przyszłych członków Gwardii Dumledore'a na wieść o tym, że Harry potrafi to zrobić).


Do których domów należały Tonks i Marta?

Do Hufflepuffu i Ravenclaw, odpowiednio.


Czy Alecto i Amycus (rodzeństwo Śmierciożerców) to Carrowsowie wspomniani przez Snape'a na Spinner's End?

Tak, to oni.

---
Herbina
Poniedziałek, 21 Maja, 2007, 17:36
---
Karolla
Środa, 23 Maja, 2007, 16:55
---
matix
Sobota, 16 Czerwca, 2007, 17:26
---
krzem
Wtorek, 17 Lipca, 2007, 21:00
---
perbtbp@gmail.com
Czwartek, 01 Listopada, 2012, 05:04
---
perbtbp@gmail.com
Czwartek, 01 Listopada, 2012, 05:04
---
usivbei@gmail.com
Niedziela, 11 Listopada, 2012, 07:53
---
usivbei@gmail.com
Niedziela, 11 Listopada, 2012, 07:54
---
offbjwh@gmail.com
Poniedziałek, 19 Listopada, 2012, 15:19
---
offbjwh@gmail.com
Poniedziałek, 19 Listopada, 2012, 15:20
---
offbjwh@gmail.com
Poniedziałek, 19 Listopada, 2012, 15:21
---
offbjwh@gmail.com
Poniedziałek, 19 Listopada, 2012, 15:22
---
offbjwh@gmail.com
Poniedziałek, 19 Listopada, 2012, 15:22
---
offbjwh@gmail.com
Poniedziałek, 19 Listopada, 2012, 15:22
---
xjviogcxl@gmail.com
Niedziela, 25 Listopada, 2012, 20:33
---
irringeDrycle
Czwartek, 20 Grudnia, 2012, 15:57
---
EmennyBeaurry
Niedziela, 23 Grudnia, 2012, 13:55
---
SpibleStirl
Niedziela, 23 Grudnia, 2012, 13:56
---
turarougs
Niedziela, 23 Grudnia, 2012, 13:56
---
Mexdantee
Niedziela, 23 Grudnia, 2012, 14:02
| Script by Alex